Well, after I totaled my last car on a rain slicked stretch of crappy Los Angeles road, I needed new wheels. This time I'd no friends to fall back on for an interim set of wheels and thus the pressure was on to get a replacement. A replacement that was an expense coming when I was already five months into my latest unemployment stretch. Yeah, it was a fun time.

I asked around and got some excellent advice from Boss about the various types of cars he tought would work best. That winnowed things down to choosing between a Honda CRV and a Toyota RAV4. The Mazda CX-5 was also in the running as it was very much in the same class. A call to the mechanic I took my truck to, Hubert at South Bay Car Care, clinched it - the RAV4. He agreed that the cars were essentially the same but Toyota was a bigger company, sold more cars, and thus there'd be more parts available for it and they'd be available for less than its competitors.

With that in mind I was soon down at West Coast Toyota in Long Beach and was discussing things with Jonathan Rosado. I'd checked their inventory online and they had a 2015 RAV4 XLE at about my price point - $18K. From the recommendations I'd gotten thus far and from my own research I knew pretty much exactly what I wanted and how much that would cost. This one fit all of that nicely. So, with little further effort it became mine. Well, mine, the bank's and so on. $10,000 down significantly lightens the monthly car payments for the next four years.

So, on Friday, March 9th 2018 I showed up at the dealership and drove off with my very own RAV4.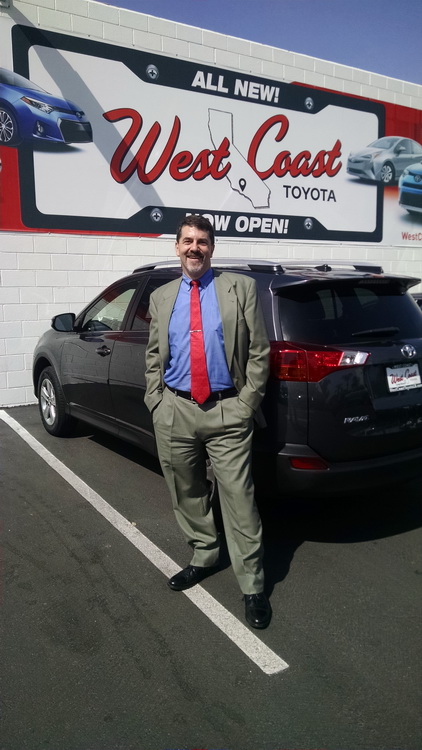 Yes, I made a point of dressing for the occassion. This, being proof that I can learn from experience.

I'll have more photos of my new wheels within the next few days. Right now I'm trying to get used to having a "modern car." Compared to my '96 Ranger this thing is like a damn starship! Electric everything and fully digital too boot! I've already hooked my phone up to charge it via the built-in USB port and simultaneously had the sound system on the car play the tunes I'd on file on my phone. Syncing my phone to the car so I can make hands-free calls

with my car

is the next step.

I was rather amused going through the reviews about the RAV4 on Consumer Reports as they all noted the stiffness of the seats and the "overly firm" quality of the ride as being negatives - if only mildly so. Coming from driving a twenty two year old pickup truck, this thing feels like a luxury car and handles like a Ferrari in comparison!
If you would like to learn more about me – just ask! Drop me a line and we'll see what happens. I can be reached
here at: madoc@madoc.us.
Page Last Updated On: 09 March 2018