Well, I finally got her home and am quite happy with the results. I think my new ride looks great as she sit there parked in my driveway.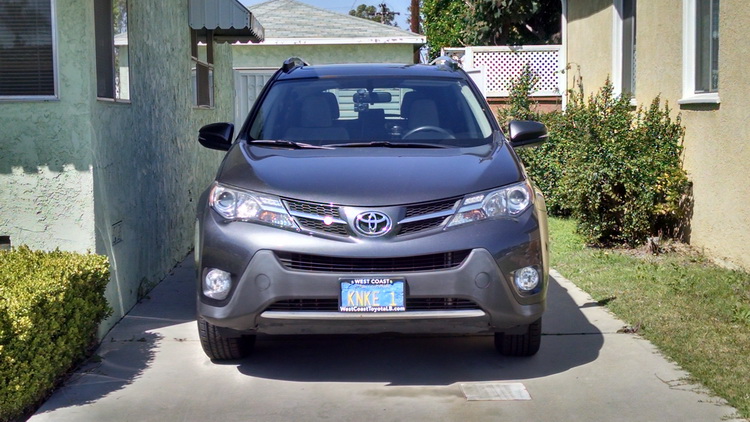 Quite the difference from the last car parked there, eh?
It's now been over two years that I've been driving my RAV4. I like it. I like it lots. I'm still exploring what I can do with it. As far as hauling things around it's not as easy to do so as was my Ranger. Pickup trucks are like that, hatchback SUVs aren't. Still though, I've figured out how to mount up my bike inside the back of my car. Thus it not only keeps the airflow over the car smooth it also keeps the bike more secure in the process. Perhaps in the coming year or two I'll do some camping with my RAV4. But that will remain to be seen. No true road trips with it. Yet. Just haven't had the opportunity - i.e. that combination of both the time and the money - to make such happen.
The summer of '20 I found that someone had bumped the back of my car "something fierce" - as we'd say back in Massachusetts. And that left a big ol' dent in the rear hatch of the RAV.
The dentee had left a note under the windshield wiper up front apologizing and included her contact info. That was very unexpected and I was grateful for the effort. I'd my doubts whether she'd follow through however.

First things first though. I began hunting around for what it would take to get the dent undented. Turns out there's now a sort of body repair known as "paintless dent removal."

A bit of rooting around on the InterWebs later, and I figured this'd be worth the shot. I found a couple of "PDR" outfits nearby, via Yelp, and called them up for quotes.

Shortly thereafter I 'd settled on Fix A Dent and placed the call.
As per my Fix A Dent Yelp Review:

"I got hold of Sharif and sent him some pictures of the dent that got put into the back of my RAV4. He soon responded with a cost estimate and a promise of an 85% improvement in the appearance of my dented in back hatch.

I then made an appointment for the work to be done on my car and right on time David showed up promptly and got right to it.

In surprisingly short period of time he'd worked out the dent to be almost invisible. This seems much more than a mere "85% improvement."

I can still see some slight dishing in the hatch near the corner of the license plate recess. But that's because I know where to look for it. Otherwise, it looks good as new. I am quite pleased with the results and have no qualms about recommending Fix A Dent to others.

Good work done on time and within estimate."
Fix fixed, I finally decided to get in touch with Tammy, she who left me that note. She was very apologetic even after more than a month had passed since the Big Dent. I sent her a copy of the receipt for the repair and within minutes there appeared a deposit in my PayPal account for the $350 it had cost me to become UnDented.
She had asked me if I had Venmo but I'm still a bit old school about such things so basic PayPal sufficed.
To say I was pleased with this would be understating it.

My vehicle is whole again. And the complete stranger who was responsible for damaging it owned up to her responsibility without any equivocation or weaseling at all. She did it, she notified me immediately that she'd done it and then she made immediate recompense once I contacted her.

Yeah, it's a small thing in the scheme of things. But it is nice to know there's still such good and honest people who can act as adults should.

And that, in the end, is what I wanted to share here.