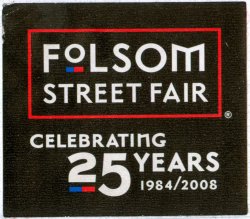 I love it when a plan comes together.
I was last up at Folsom in 2005. Then, I was there with my partner, Julia. It was her second Folsom and my eighth? ninth? tenth? Anyway, I'd been there a lot times more than her so I got to enjoy her enjoying it as something still very much new. Julia and I wound things up last summer so this year I was back in SF on my own; free, white and definitely over twenty one!
In getting set for this Folsom I wanted to stay near the action so I could be part of as much of it as I could. That meant finding a hotel pretty close to where the Festival would take place so I could hit that room up frequently for what costume changes I needed to make.
For anyone who has spent some summer days in the City, you know how it lives up to the old saw: "The coldest winter I ever spent was a summer in San Francisco." Folsom Weekend 08 lived up to that in great degree. In the mornings the difference between being in the sun or in the shade meant needing to be in shorts or bundled up in a sweater. By mid-day it was hot enough to roast. By late afternoon, the marine layer started rolling in and the breeze ahead of it, combined with the roiling clouds to the west, would drop the temps down hard. Folks who'd been hot 'n sweaty in their next to nothing at the Festival around mid-afternoon suddenly were all chills, goose bumps and chattering teeth by Festival closing.
If you chose hide as your attire you were mostly comfortable in the morning, sweating like a pig by mid-day, and warm (if still damp) by sundown. It all depended on your comfort level and what you wanted to achieve. Me? I wanted to be both comfortable and look good. Thus, I knew I'd need to change at least a couple of times during the day. That plus I had more than a couple of things to change into so getting a hotel nearby for those "costume changes" was mandatory.
But, due to a lot of factors out of my control (and some well within it) I only got started on my Folsom plans late in the season. In years past if you didn't lock in your hotel room for Folsom by late winter / early spring then you were SOL bigtime. As I was starting this effort in late July I was just hoping to find a hotel within a half mile or so of Folsom. I fired up Expedia and ran a search on hotels in San Francisco and then started looking on the map for ones that were in the SOMA (South of Market Area.)
One place I found was really surprising in that it's location was more than perfect, it's room night price was actually pretty low, and it actually still had rooms for the weekend even at this late date and even with all that other stuff going for it. Knowing how Expedia works, I decided to light up the hotel directly. That way I could book my room there without having to pay for it up front.
The hotel I speak of, Americas Best Value Inn & Suites – SOMA, is located on Hallam Street. This isn't just near Folsom it's on Folsom. The northern face of the hotel is on Folsom street itself and the place is literally just a stone's throw away from where they set up the 7th Street Stage. Yeah it's that close.
The place has an interesting history to it as well. I knew that prior to it's becoming a hotel in the Americas Best Value series it had been a youth hostel. That gave me a bit of a pause as I really didn't want to deal with sharing one bathroom per floor or something like that. However, the place had been renovated enough that each room had its own facilities.
At some point prior in its history, the building had actually been used a bathhouse. This was "back in the day" as a friend of mine, Ron of BigBlackBoots.com, told me when he learned where I was staying. He remembers the place from when he was stationed down in the South Bay and would go off duty on Friday nights, drive up to the City, check in to that bathhouse, spend the rest of the night fucking his brains out, and then get turned out onto the street come Saturday morning. Bathhouses were not hotels and thus could not provide overnight accommodations and thus had to close for business the next day. A legalistic quirk that put well and truly spent guys out on the street at an early hour.
I found the hotel to be well suited to my needs. It has few of the amenities you'd expect from a national chain but it had enough to get by. WiFi access being both free and online was the primary one I needed. The rooms were small but serviceable. The place was clean enough and secure enough as well. I was a tad worried about that last bit as I knew the Folsom crowds could mean for so much foot traffic it'd be easy for a thief to get through. Luckily, no such thing happened.
I figure that it was a younger Indian guy who bought up the place and converted it into its present form. He did the managing and such, while bringing on the rest of his family to staff out the rest. As a result there were a couple of older Indian women on duty through the weekend and it was real clear they had no idea what part of town they were in nor what sort of crowd they'd see over the weekend. Coming back from one of my rounds on Saturday I crossed paths with one of these ladies. I was in my new leather jodhpurs, Dehner patrol boots, and black Mr. S Leathers shirt. That lady clearly did not approve of such attire and kept her eyes upon me as I walked through the small lobby of the hotel. For my part, I didn't give a rat's ass what she approved of and locked my eyes upon hers. My facial expression made it pretty clear that her expressing any further disdain would be most unwise. I didn't see her again that weekend.
A few years back, when I was last up in SF for a Folsom by myself, I was lucky enough to stay in a friend's house in the area. Being that central to SOMA meant I really didn't have much cause – nor much time, in fact – to get much away from the area. The same happened this time up there.
I got up to the Castro on Friday afternoon shortly after pulling in to town, and then again on Saturday when I was up there to have lunch with a friend. Other than that, I stayed down there in SOMA within but a few blocks of the hotel. And I wasn't wanting for staying so close!
Friday afternoon I took a tour of that friend's place. He's recently got it finished and it is truly wonderful. I'm happy for him in this because he's put a lot of effort and thought into its renovation and the results truly bespeak him.
From there I went over to the Mr. S Leathers store on 8th Street. It was literally "just around the block" from my hotel so it was but a short walk down Folsom and then down 8th to Richard's store. Damn, but that place is intoxicating. It is a true "toy store for adults" and is filled with the finest gear for such play as you can imagine. And on Folsom weekend it is also filled with lots and lots of sexually charged men and women looking for such gear to fulfill their fantasies. That and perhaps meet others of like mind while shopping there to.
Unless you're a sexless eunuch or such a prude that you can't tolerate anyone else having fun, just standing in that store will give you a "contact high" from all the erotic energy being generated there. I spent a good couple of hours in the shop on Friday and on Saturday and got a buzz from that on both days. I also did a bit more than just "stand there" (thank you, James!) and managed to part with no small amount of coin to boot. But hey, I need all that schwag!
I'd started Friday afternoon in my shorts but was soon in my black Utilikilt back at the Mr. S store as I needed a new belt and Sam Browne for it. It felt really good to be able to walk around the streets in that kilt. I only looked a little bit out of place as I strolled up 7th to catch a cab up to the Castro and once in the Castro I looked not at all out of place.
Up in the Castro on that Friday I realized that I had forgotten to bring any jacket along for the weekend. I had thought things through far enough the last time I was in San Diego to pack two leather jackets in anticipation of this trip. But in my haste to get to the City, and being used to the Alabama summer's heat, I had left both jackets hanging in their Huntsville Residence Inn closet. Smooth move, Madoc! So, I walked up to Worn Out West and checked out their goods. Luckily, I found a used leather jacket that both fit and was of a reasonable price. There at the store's counter I also found something similar to one of these little gems and decided to give it a try as well. Whaddayaknow, it fit! One of the guys working there, Mike, was quite helpful in making sure of that. Odd how so many guys in San Francisco are just so damn helpful like that, eh?
I wound up that evening by getting my Dehners shined just down the street from the hotel at Chaps II. Bootdog was on duty for the "boot party" and while he did a good job, he wasn't as personally into it as Paksen was back in Denver. I miss Paksen.
Saturday morning found me relaxing out front of the Starbucks on 18th Street in the Castro as I waited for my friend Frank. We had a lunch date to catch each other up on our lives. This Starbucks used to be a Pasqua's coffeeshop and it has always done a land office business. It's convenient to the rest of the Castro, it's located within eye shot of the 18th and Castro intersection, it's shaded by a few well placed trees, it has a few seats outside, and it has become one of the places for folk to hang out, cruise, people watch, and simply to be at. I got cruised and flirted with, heavily, by some of the guys there and that was flattering.
From there I went off to the boot "brunch" held at Rocco's, as I mentioned earlier. Leaving there I made my way over to a "scene" photographer's studio nearby. I've known of his works for a number of years now and have also known of his studio being open during Folsom Weekend as well. I've dropped by a few times previously and gotten some excellent photos in the process. Today was no different. I was dressed in my finest fetish gear; my freshly shined Dehner patrol boots, my Marvelous Mayhem leather jodhpurs, and my longsleeve black Mr. S Leathers uniform shirt. On this day, I looked about as regulation "Tom of Finland" / Old Guard Leather as I was ever gonna get. We wound up taking a buncha photos and he was pretty enthusiastic about what he saw through the lens. I'm hoping that will well translate into equally as enthusiastic images.

| | |
| --- | --- |
| Folsom 2008 Fetish Photos! | |


Yay! They just came in today, Sunday, one week to the day after Folsom itself.

I'm quite happy with these!



Looks like the photos come out even better than I'd hoped! Yay!

From there it was back again to Mr. S (hello James!) and then off to collect Simone from the Citadel. We had a dinner date and wound up at Rocco's – up front this time, not out in the gravel covered lot in back. We caught each other up on things and how our weekends were going. I was starting to fade having had a really energetic afternoon. I think I should've taken a "disco nap" in anticipation of the rest of the night. In any event, I was pretty well done by the time I'd walked her back to the Citadel and made my way back to my hotel. After a bit, I decided to get some rest for the next day and turned in.
Sunday, I was up early. To early as it turned out. For me it was well past time for me to be up, 09:00 by my Central Time acclimated body clock. That meant it was but 07:00 Pacific Time and, worse, it was that early on a Sunday morning down there in SOMA. Nothing was open! Well, nothing was open for business, that is. I got rather peeved at a couple of places nearby which had staff in them, their lights on, and their front doors propped open but were all "Oh, sorry, we're not open yet" in response. One place even had its "Open" lighted sign in their window all lit up and blinking that they were "open" when, in fact, they weren't. Not a good thing for a hungry guy like me in the AM. I did find a place to take the edge off and then got going doing my first walkaround of the event. I made five such runs that day.


At the end of this first lap I pulled up to the Utilikilt booth.

They were still setting up and were nowhere near being ready for business, officially.

However, I'd already been in contact with them (hey Pounder!) as to whether they were gonna carry what I was specifically after – a caramel Workman Uk.

Even at that hour, the staff was more than happy to take my money.

I did have to try on the two sizes they suggested and to do that without their dressing room being set up I simply dropped trou and wrapped the kilts on right there in the middle of the street outside their booth.

It wasn't that brisk at that hour but it weren't balmy either and I certainly felt that standing there between trying them on!

But, at the end of that process I now had my second Utilikilt!




This was one of my main goals, purchase-wise, for the weekend. I've long been after a second Uk. I'd bought my first one at the 2001 Folsom and soon found myself wanting another one. The first one was a black Workman Uk and it seemed more appropriate as fetishwear than otherwise. The black is a bit severe for day to day wear and I really didn't want to do much real work in it 'lest I get it marked up. So, I've long been in the market for another one that doesn't shout "fetish" quite so loudly. This new caramel Uk is just the thing. I was real happy to have finally laid my hands on one. I'd hoped that Utilikilts would have had a presence at Dragon*Con but no such luck. This, despite guys wearing Uk's being all over that event.
I was quickly back up in my room and working up my first blog entry about Folsom. Then it was time to shower and get slung up in my first outfit of the day.

I did a full lap of the event in this one and was quite enjoying myself.

I connected again with Simone and got myself a Fosters at one of the beer booths.

The difference between that brew and the standard Bud / Miller crap is night and day.

I'd been stuck with that piss water the previous night at Chaps.



Having the option of Fosters on draft reminded me of just how much better that beer is than the rest.

It became my preferred cuppa brew for the rest of the day.








While enjoying my cup of Fosters we chanced upon this bunch.

The group consisted of the rubber suited pony / horse up front, a leather and rubber suited wolf there on the one side, a leather clad pup on the other, and a sultry femme domme riding in the carriage.

They made for quite the spectacle.

The amount of room they took up also meant theirs was a display only workable pretty early on in the Festival.

An hour or two later and enough people would've crowded in to the Festival that they wouldn't have been able to move at all.

They were nice enough to look at though.


Simone and I made our way down to Mr. S as I needed to buy a hat.

The sun was fully out and beaming by now and my freshly flattopped haircut was revealing my scalp to the sun's frying nature.

Plus it was just plain fun hanging out again in the shop.

Not nearly as many folk in it though.

Hat on head, and one of these also being worn, it was time for another round of the Festival.



I spied this red gay devil dude at one booth.

I didn't catch the rationale behind his look and the devil red rubber duckies there but they carried well the theme.





Several other groups of folks were running their own themes.

And this lad, Bruce, was running quite the theme all by himself.

I like that.

Having such fun and being creative people there really adds to the event.









The result was not a terribly major difference, just swapping out my caramel Uk for the black one and the T-shirt I picked up at the last Inferno I was at.



| | |
| --- | --- |
| By now the crowd was truly coming out to the event and it was even drawing folk forth out their windows | |

| | |
| --- | --- |
| | ...onto their ledges... |

| | |
| --- | --- |
| ...and rooftops. | |



| | | |
| --- | --- | --- |
| | The folks at Dark Garden had their booth in full swing by this time and their work is always exquisite. | |
| | Their models are pretty damn fine as well. | |
Toward the 10th Street end of the street I encountered this guy: Mr. San Francisco Sweater 2008.

I about pissed myself laughing at this one.





I thought it great.



Nothing like a bit of well done parody to lampoon the overly serious leather titleholder realm.





This guy's outfit did that perfectly and we had a great time chatting it up.




Bully for him in his creation!


Then there was this fine lad.

He showed both skill at self-tying his Shibari ropework...




...no small bit of self-marketing skills...






| | | |
| --- | --- | --- |
| | ....and also the exceptionally useful skill of being rather flexible. | |
| | |
| --- | --- |
| Also there was this lad who clearly had his priorities straight | . |



This woman's outfit was like one great big classic seamed nylon which covered her entire body but in this incarnation it was made out of translucent latex.


Sexy indeed.



| | |
| --- | --- |
| That loop completed, I decided to try the leather kilt, Dehners, white pirate shirt and Glengarry. | |


Coming back out, I found the ledge crew had grown in number and boldness.



Along with a decidedly flirty nature.





I saw some truly gorgeous rope work being done...



...on a truly gorgeous subject



| | |
| --- | --- |
| | and yet more gorgeous men holding up the walls. |
At this point, I'd run out of cards so I had to duck back in and while there I shucked the kilt and went for the jodhpurs.

By this time the event was in its end phase and the weather was pushing that along. The temps had dropped and the wind had risen. So, going over to full hide was a warm sensible choice as well as being a stylin' one.





Stepping out there was more spectacle going on as well as more shopping.

I thought this rather clueless vanilla couple coming out of the Leather Etc. store there at 8th and Folsom.

They were probably so jazzed at buying their first crop that they didn't even notice the bubble butted lad coming in ahead of them.


I've no clue what this guy's creation was all about.

However, it's clear he was having a blast with it and that made it work for everyone.

08/10/14: Well, now I know what this was all about! Thanks to his finally finding my card, the illustrious gentleman here in these photos dropped me an email and identified himself.

I don't know how I could've missed this! What we have here is King Key!





I eventually made my way back to about where my hotel was and took in the ledge crew having more fun.

By now they'd taken to giving away leather ballstretchers to anyone who'd put one on in front of them.

They lowered it by rope and cheered passerbys on to the challenge.






| | |
| --- | --- |
| | They also took to trying a ring toss |




| | |
| --- | --- |
| and this lad with his penis squirt gun came out the winner. | |
One of the things I like about Folsom is getting to see some fine examples of beautiful ink work sported by folk who attend the Festival. This year was no exception to that.



In my morning's first round there was this Egyptian themed piece gracing the skin of a handsome man.




Later in the day I spied this leonine beauty.








Near the Festival's end I chanced by John here.

The work on his back is gorgeous.

The piece on his front is a Kerouac quote.

John has promised me that he'll soon send along the story behind the art on his skin and when he does I'll update things here to include it.





One other bit of living art caught my eye that day and it was sported by this fine lass: "Rebel Girlscout."

This beautiful piece was peaking itself out from this beauty's back and she graciously held still for a passing as I recorded her images.

Very, very nice and very, very sexy.

She also was very much up to the challenge.

Her guy is a lucky man indeed.












There were other folks there that presented sights worth seeing that day.

This fine gentleman looked absolutely radiant as he stood there "stylin'" so fiercely.

He graciously paused his meal to allow me to record that fearsome style and I think it well worth it.


There was also this gent who was obviously very much into torture.

If you think not then just try standing around for the hours he did in heels on that street pavement.

But then, the guy's T-shirt said it all.


By day's end I was pretty well done myself. That's a lot that gets crammed into Folsom's seven hours. The evening's approach, with its quick drop in temps and blustery winds, made it clear things were done for another year. I wound down that evening with Simone over dinner at Basil Thai's and still had some fun with the crowd there doing the same.
Lemme know what thoughts you have of this. Also, if you know the names of the folks in these images please send that on or put them in touch with me. I tried to give out my cards as best I could but between running out and between folks losing them I've not been able to be in touch with everyone I recorded.

All in all, this was another good Folsom. I think I found a good place to stay at for next year and I'm already thinking about what I could do differently and what I could simply repeat to keep on having a good time at the event. So, that wraps this up.

Now it's time to plan for the next Folsom!